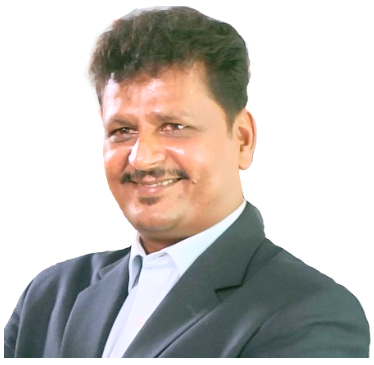 Sunil Kumar Vaya
COACH for Transformation | CFO | Director | Author | Keynote speaker
Certification
PCC-ICF | SP-EMCC | MBA-IIM-Bangalore | IAF | ACMA | ACS | NLP Master | Positive psychology | Positivity quotient building
More about me
I feel pride and pleasure in what I do, so expect a coach who can find hope in the despair, humour in the chaos,  trust in the intangible, light in the darkness, and faith in the invisible.
I am driven by a deep-seated desire to empower individuals to live their best lives. I am passionate about creating a safe and supportive space where you can explore your dreams and unlock your full potential.
My purpose is to inspire, encourage, and challenge you to become the best versions of yourself, and to help you navigate life's challenges with confidence and resilience. Through my coaching, I aim to ignite a sense of purpose and passion in you, and to help you create a life that is filled with joy, fulfilment, and meaning.
I offer a coaching style that makes my clients feel calm, relaxed, and realised and yet challenged enough to reframe their perspective.
Coaching journey so far includes working with senior leaders and Individuals (250+) in the corporate and Social space. Facilitated redesigning their professional and personal journey with raising awareness on their core and created transformations. This allows me to create space for my members to feel connected and open to exploring their potential.
In addition to this, I am an avid world traveler and a life-long learner! Last few years I have travelled 25+ countries and read 100+ books on variety of topics.

My philosophy
"I am not coach because I am better than you, but I am because You have the potential to be better than you are."
My philosophy on coaching centers on the belief that everyone has the potential to achieve their goals and live their best life.  Every person has unique strengths and capabilities that can be leveraged to create positive change in their life.
I believe that coaching is a collaborative process that requires empathy, active listening, and open communication. This process empowers individuals to tap into their inner wisdom and resources to achieve their goals.
As a coach, my role is to:
a) Support you break the shell with your inner strength (Because, When an egg is broken with outside pressure can only create an omelet, however, an egg gets broken with inside pressure can give birth to a new life. )
b)Focus on your unique gifts, talents, and abilities and facilitate the steps necessary for you to make conscious leadership choices and behavioural action steps that best align with your authentic selves.
c) Guide my clients on their journey toward self-discovery, growth, fulfilment and transformation. Explore their challenges, and identify their values, strengths, and passions. I aim to empower them with choices to take action toward their desired outcomes.
Above all, my coaching philosophy is rooted in the belief that every individual is unique and worthy of non-judgmental support.
Who I am
What defines me:
As a coach, I am committed to helping you unlock your full potential and achieve your goals.
I believe in empowering my clients to take ownership of their personal and professional development, and I am here to support them every step of the way.
My coaching style is focused on building a deep, trusting relationship with my clients, so that we can work together to identify their strengths, overcome obstacles, and create a clear path forward.
I believe that everyone has the capacity for growth and transformation, and I am here to help my clients tap into that potential and achieve their dreams.
As a coach, I bring a unique blend of empathy, intuition, and strategic thinking to each session, helping my clients navigate challenges and make progress towards their goals.
My coaching philosophy is rooted in the belief that true success and fulfilment come from living in alignment with your core values and purpose, and I am committed to helping my clients do just that.
As a coach, I am not here to give you all the answers. Instead, I am here to help you discover the answers that already lie within you, and to support you as you take action towards your goals.
I believe that coaching is a collaborative process, and I work closely with my clients to co-create a coaching plan that is tailored to their unique needs and goals.
At the heart of my coaching approach is a deep commitment to helping my clients live their best possible lives, and I am honoured to be a part of their journey.
I am a coach who is passionate about helping individuals unlock their full potential, achieve their goals, and create a life they truly love.
My Journey
Born and brought up in a beautiful town, near Udaipur in Rajasthan (India)

Grown up as a loving child in the family in my hometown and had no idea what I was going to become

Moved to Udaipur for my higher studies and struggled with English at the beginning but excelled the journey with merits and gold medals.

Since childhood struggled with multiple languages and kept acquiring new languages on the journey; I can speak Mewari – Hindi – English – Gujarati – Marathi – Kannada – Und etwas Deutsch.

Worked with several corporate organisations which include;  Mayur Suitings, Core Healthcare, Videocon, and Bosch Global, in multiple leadership roles as CFO, Transformation leader, Commercial head, and Taxation leader.

Post 26 years of long and fulfilled journey with Corporates, in 2021,  I decided to explore my life differently, so came out of corporate world to explore adventures of life.
Joined Government of Karnataka as Indian Administrative Fellow in 2021 and worked with senior Bureaucrats on large projects for State.

Acquired my MBA from IIM Bangalore while working during 2016-18. Studying while working full time was not easy hence struggled initially to cope-up with the pressure but gradually got into the nerve and graduated as Gold Medallist.

While studying for my MBA got a deep interest in learning behavioural science hence my most electives were tuned toward behavioural science.

To continue my passion to learn more about the human brain, neuroscience, and behaviour I studied master's in psychology and a master's in Neuro-Linguistic Programming (NLP).

Also certified in positive quotient building as I felt that for leaders, building PQ muscles is equally important as building IQ & EQ.

I started my Coaching journey post my MBA from IIM Bangalore in 2018

Done my certifications from the International Coaching Federation (ICF) for ACC in 2021 and PCC in 2022.

I am married and have a soulful spouse and have two adult kids on their educational journey.

I am passionate in learning about people and their amazing stories and connecting with new souls to make a difference in their life. 
U@core
The U@Core concept is designed to help you rediscover and reconnect with your true essence, and empower you to live a more fulfilling and authentic life. Our resources and tools are grounded in the latest research and insights from psychology, neuroscience, and spirituality, and are designed to help you:
Identify and clarify your values, passions, and purpose
Develop greater self-awareness and mindfulness
Overcome limiting beliefs and self-doubt
Build resilience and mental toughness
Cultivate positive habits and behaviours
Create a vision for your ideal life and take action to make it a reality
U@core
Whether you are looking to achieve personal growth, find greater meaning and purpose, or overcome challenges and obstacles, U@Core is here to support you on your journey. Our team of experts and coaches are dedicated to providing you with the guidance, inspiration, and tools you need to tap into your full potential and live your best life.
Through our workshops, coaching sessions, and online resources, we help you explore your values, beliefs, and passions, and uncover the unique gifts and talents that make you who you are. We guide you through the process of identifying your purpose and creating a vision for your life that reflects your deepest desires and aspirations.
Our approach is grounded in mindfulness, self-awareness, and compassion. We understand that the journey of self-discovery can be challenging and at times uncomfortable, but we also know that the rewards are immense. When we live from our core, we experience greater joy, fulfilment, and inner peace.
---
Trust Signals : Experience Speaks
I really enjoyed the coaching sessions from coach Sunil
It was totally a different approach, focused on developing self realisation and uncovering my potentials through NLP techniques of coaching.
I got an transformational approach and practicing the outcomes in the form of action
-Gaurav  (Plant operations Manager at automative MNC)

Sunil has very precise knowledge about sub conscious behaviour management. He really helped me get clarity in my personal purpose and made my vision clear.
The best part about his coaching was it made me as an individual commit to my goals and was not externally driven. It was great working with him and i felt an overall positive transformative impact.
-Priti. (Head- Marketing Finance with British MNC)

---